A new challenge is up at
Stampin for the Weekend
, this time a recipe.
Ribbons and Bows with an option for 3 papers, 3 embellishments and 1 charm.
Sponsor is: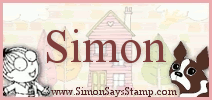 with a $25 Shopping Voucher
I used two stamps from Skogstokiga* that I masked together, DP from God knows where, a piece of old lace, punched out flowers and pearls. I finished it with perfect pearls all over the place =)
I can't for the life of me figure out why my inside pictures always turn out like crap, maybe I just suck as a photograph...
* Skogstokiga is a Swedish rubber stamp company. You can browse
her blog
to see the stamps and then you send her an e-mail to order the stamps you want to buy.